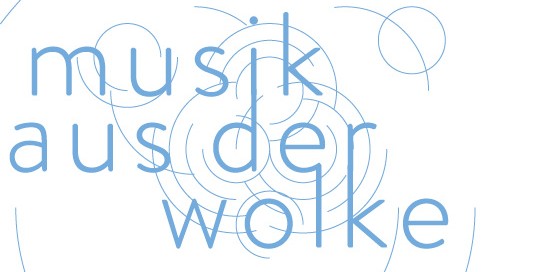 Eight Site-Specific Audio Works for Smartphones / 1 – 31 May 2013 on air in Berlin
"Music from the Cloud" involves compositions and audio works by eight Berlin-based and international composers, sound artists and authors that are based on selected, significant cultural spots in Berlin and can only be heard at these locations via smartphone. The project is a contribution of the Akademie der Künste's Music Section to the "Kultur:Stadt" exhibition (15 March – 26 May 2013) that transmits its thematic framework – the interaction of urban and cultural relationships – to acoustic experiences. It is one of the many "Music in the Cloud" events with which the Music Section offers a wide spectrum of the ways in which sound and urban space can interact artistically in this day and age. Sound installations and an audio room offer the opportunity from 8 – 19 May at the Akademie building on Hanseatenweg to explore the city from an aural perspective. Two concert evenings (17 / 18 May) address certain places and their aura and atmosphere in a unique way, and are augmented by lectures and discussions with experts and artists.
"Music from the Cloud" takes a step towards the active listener in very practical terms. It takes the term of the "cloud" seriously, which plays an ever larger role in the reception of music in our day and age. The works have exclusively been produced with this context in mind and are only available "on air" from 1 – 31 May 2013. They reflect historic, architectonic, allegoric, atmospheric and other particularities of the locations and connect the medial artistic experience with the real, concrete surroundings. Together with the architects' network "raumlabor berlin", independent cultural projects were selected that carry out social, sociocultural and artistic work and have "acquired" corresponding spaces (interior as well as exterior):
Tempelhofer Feld / Prinzessinnengärten Moritzplatz / Mellowpark / ExRotaprint / ZK/U Zentrum für Kunst und Urbanistik / DOCK 11 EDEN***** / RADIALSYSTEM V / Kotti-Shop among others. Projects at Kottbusser Tor.
The exact positioning of the audio works in public spaces is made possible by the radio aporee platform. A free application must be downloaded in order to receive the audio works by the eight participating artists at the respective locations. The works themselves are usually made up of multiple, spatially divided parts that can be heard by the listener while walking traversing the site in question. The GPS on a smartphone can allocate each work to its respective location by displaying the listener's position as well as the audio work on a map on the mobile phone.
curated by Carsten Seiffarth

A project by "Music in the cloud"