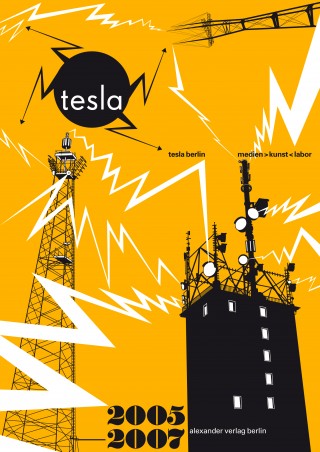 TESLA media-art-laboratory turned a palace into a laboratory – for three years the podewils'sche palais close to berlin's alexanderplatz was a central place for media arts. the house quickly became an open meeting place for both established and young artists, providing a platform for the development of production processes, joint projects and partnerships. it offered a discussion space for public contemplation and artistic reflection on contemporary art. the relationship between art and science, between the old and the new, analogue and digital media were researched and debated. this book documents the work of tesla from 2005 to 2007 through the presentation of selected artistic projects, through listings of all events and artists involved, as well as through personal reports by resident artists about their experiences at tesla.
raster-noton's signal (olaf bender/frank bretschneider/carsten nicolai) took part at tesla with their wardenclyffe project in 2006:
the engineer nikola tesla established a "world system" on the us american east coast (wardenclyffe, long island), a never-completed installation of transmission masts intended to open the aether to a world-encompassing communication and energy system. "wardenclyffe" is a session project between pact systems (mark peljhan/aljosa abrahamsberg, slovenia) and raster-noton's signal (olaf bender/frank bretschneider/carsten nicolai, germany). "wardenclyffe" was brought to life in 1997 in the shadow of the documenta x. the collective has since been experimenting on tesla's visionary interconnectedness under musical conditions in selected locations.
the book (224 pages, 210 photos, colour, english/german) was published by alexander verlag berlin and comes with a cd containing the last life session of signal/pact systems' wardenclyffe project.
order from:
Alexander Verlag
TESLA